Legendary American Ceramic Artist (aka as ceramist)
The second woman to be highlighted this year is Mary Kirk Kelly. Coincidentally, she also lived at 101 North Sergeant Avenue between 1958 and 1963. Mary Kirk had no relationship or association with Dora Kneeland or the Williams family.
Mary Kirk was born in Axis, Alabama on December 24, 1918 and died on May 6, 2013. She had two daughters, Mary Elizabeth and Ruth. We interviewed Mary Elizabeth by phone in May 2021 and she said her father was "out of the picture" when she was seven years old, but that didn't stop her mother from achieving a remarkable career. Mary Kirk had a Bachelor of Arts from Alabama College; a Master of Arts from Vanderbilt University; and graduated from George Peabody College for Teachers.
Mary Kirk was on the faculty at Joplin Junior College (precursor to Missouri Southern State University) between 1957 and 1963.  She taught American history, U. S. government and sociology; and was the faculty advisor for the student senate.  She was the faculty advisor for the first Model United Nations Convention that Joplin Jr. College attended in 1963 and accompanied the student delegates from Joplin to St. Louis for the event.  The Model UN languished at the college in the 1970s but in 1984, Dr. Paul Teverow restarted the program which continues today.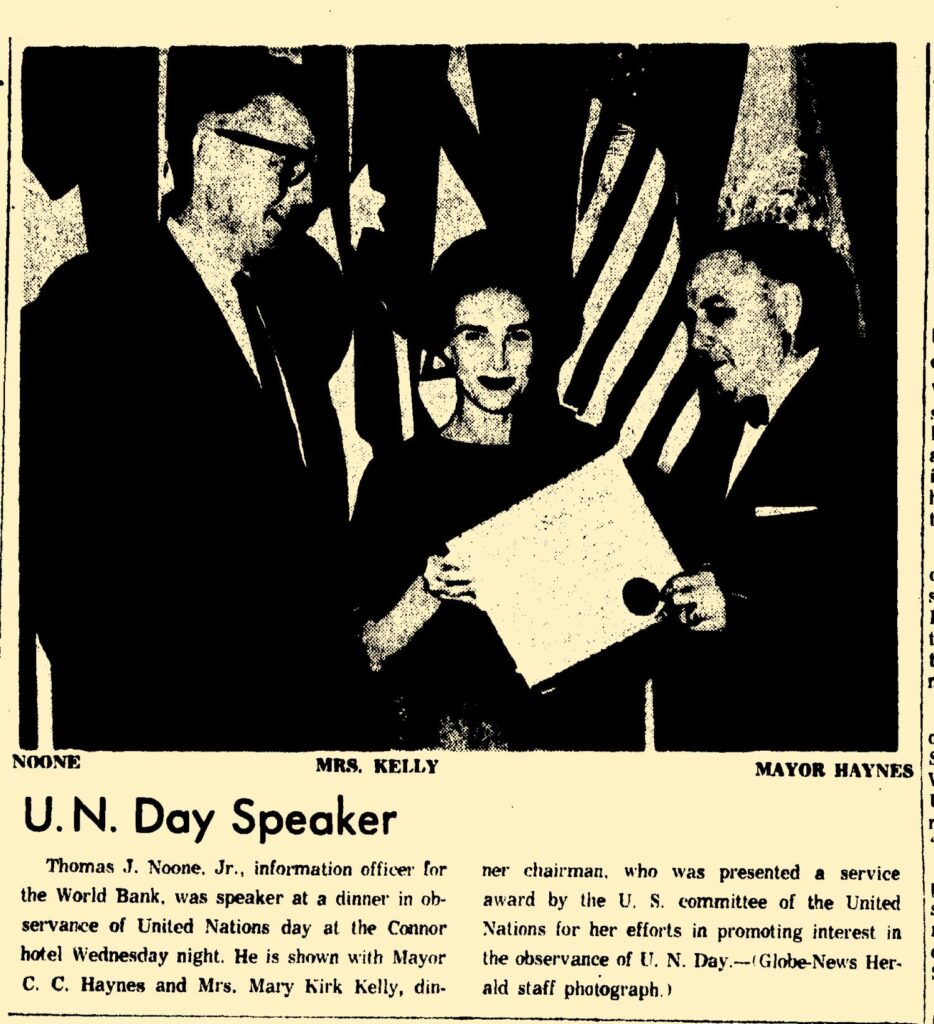 Mary Kirk was also chairman of United Nations Day in Joplin, which was held at the city's famed (nonextant) Connor Hotel roof garden. In October 1962, she was presented a service award for her efforts in promoting interest in the observance of United Nations Day. The plaque was signed by President John Kennedy and Robert Benjamin, president of the U.S. committee of the U.N. She was commended for her outstanding job in promoting Joplin's first U.N. Day. The U.N. works to improve the lot of mankind and maintaining world peace.
The Joplin branch of the American Association of University Women also benefited from her involvement, membership, and chairmanship in international relations.
She retired from teaching in the early 1970s and moved back to her ancestral home, Kirk House, in Alabama. There she was prolific in creating ceramic art pieces from clay that she gathered from nearby Gunnison Creek. Before long, Mary Kirk produced realistic, true-to-life size ceramic fruits, vegetables, nuts, berries, eggs, pineapples, mushrooms, potatoes, leaves, magnolia blossoms, Osage oranges, and even shrimp. She also produced utilitarian porcelain art pieces such as tureens, bowls, plates, and tea sets that looked like cabbage, lettuce, or melons; ceramic plaques with daisies; candlesticks fashioned after banana stalks; and trays that looked like banana leaves. People from all over the world purchased and collected her art pieces.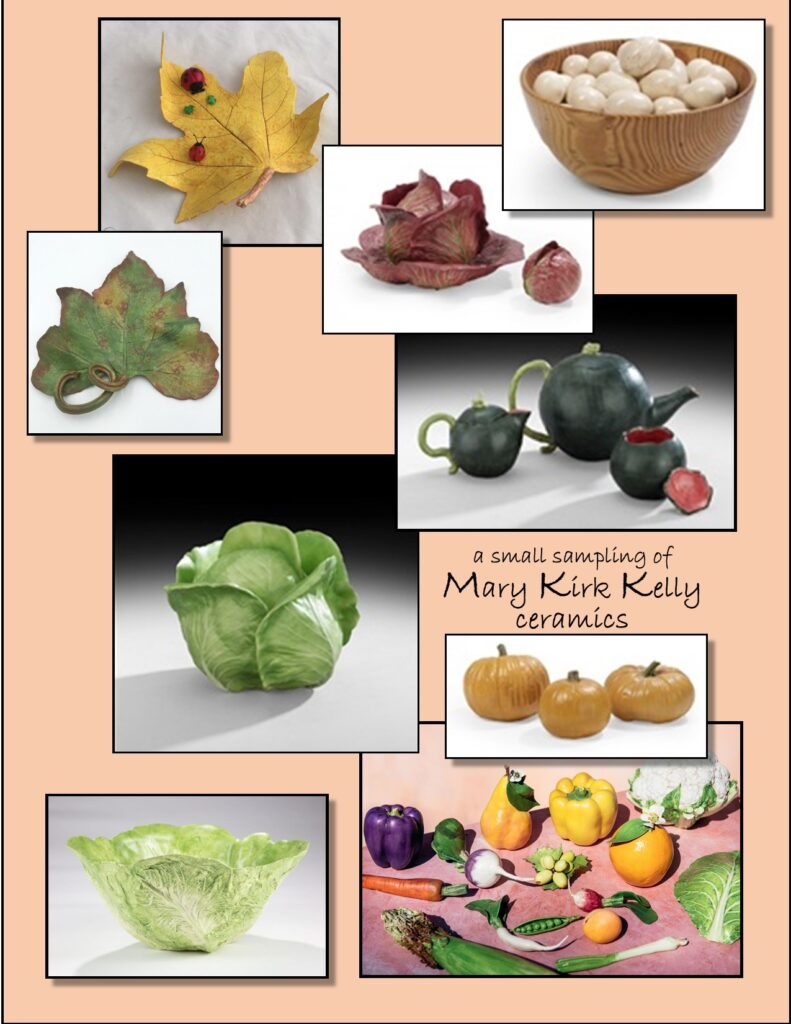 According to the Worth Point website, "Both her artistry and painstaking attention to detail are obvious. Each is made by hand from earthenware or porcelain clay in liquid form (slip). Ms. Kelly hand sculpts the greenware, then paints it before bisque firing. After firing, she brushes or sponges metallic oxide colorants to capture the realism so highly prized by collectors. Each piece is signed by Ms. Kelly. They range in size from 3" to 6". Generally, her works sell in the $175 to $300 range (per piece), depending on the intricacy of the design. These look beautiful in just an ordinary fruit basket. People WILL try to eat them…"
To view or purchase some of Mary Kirk's works of art, just search the internet under Mary Kirk Kelly, American Artist.
United Nations Day, celebrated every year on October 24th, marks the anniversary of the UN Charter that was ratified in 1945. There is no other global organization with the legitimacy, convening power and normative impact of the United Nations. Today, the urgency for all countries to come together, to fulfil the promise of the nations united, has rarely been greater.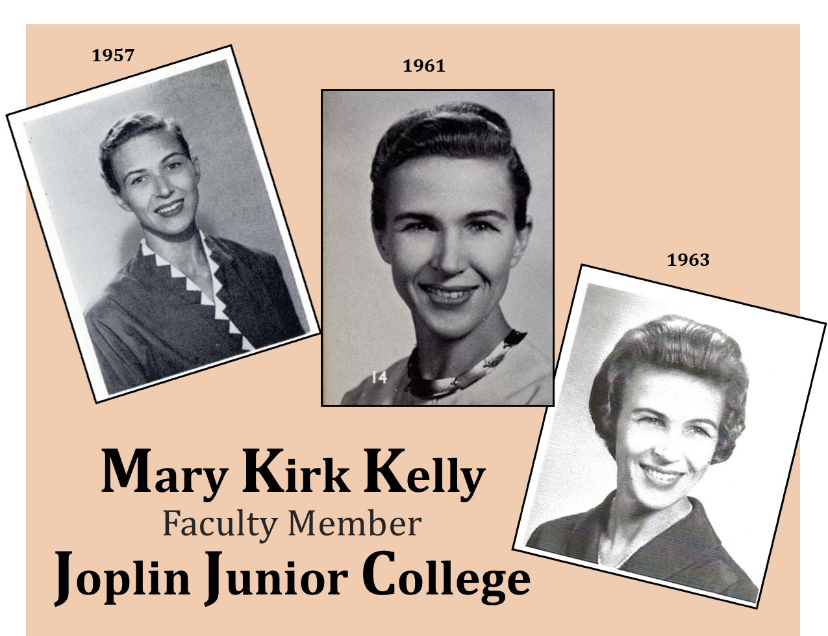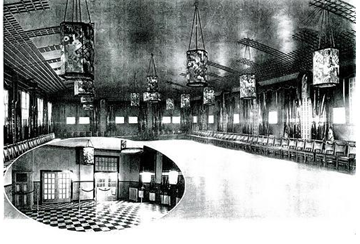 Enclosed roof garden on the Connor Hotel pictured in 1916. Joplin Historical & Mineral Museum.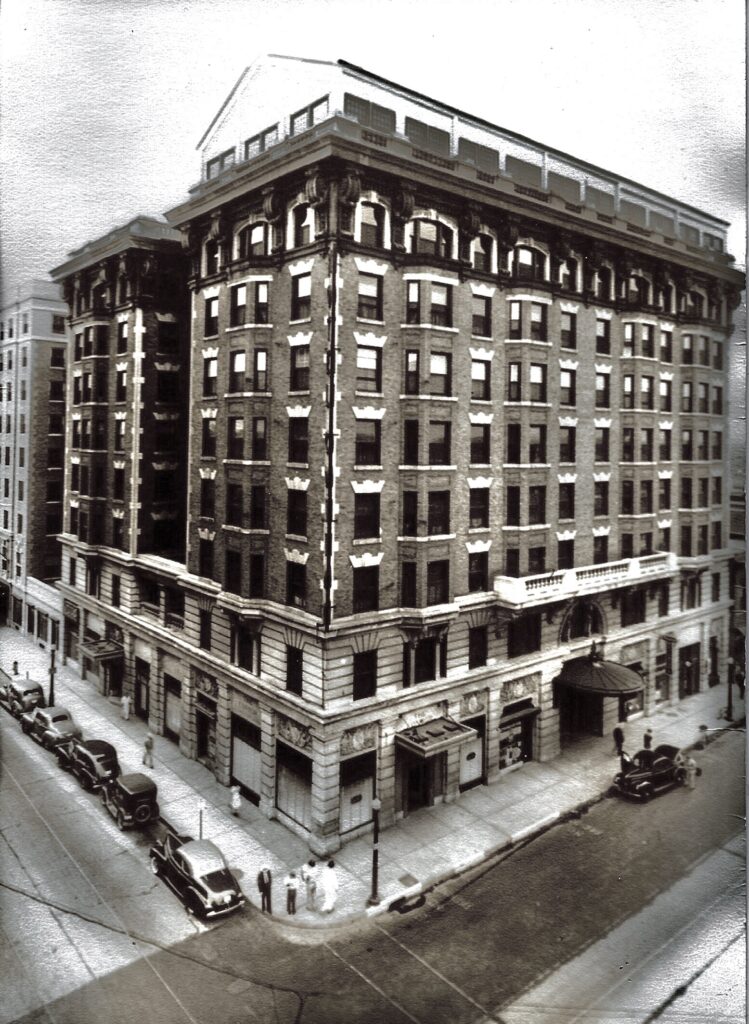 The Connor Hotel pictured courtesy of the Mark & Paula Callihan archives
Missouri Southern State University, Joplin has continued the Model United Nations class. Every November they take students to the American Model United Nations conference in Chicago. According to Dr. Chad Stebbins, MSSU professor of journalism and director of the Institute of International Studies, "The students usually represent the country that is the focus of MSSU's themed semester that fall. In Fall 2022, they represented the Czech Republic. In Fall 2023, they will represent Ireland." Dr. Stebbins is also the author of Joplin's Connor Hotel; first published in 2021.