130 Moffet Avenue
5 beds • 3 baths • 3,400 sq. ft.
Great investment opportunity! Minutes away from Downtown Joplin. With 5 bedrooms, 3 bathrooms, an unfinished basement, and 2-car detached garage, the opportunities are endless!
Click here to view details. Listing courtesy of Tiffany Blair.
The Olivia Apartments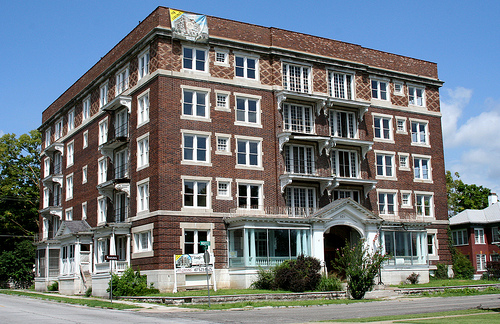 Background:
Address: 320 South Moffet, Joplin, Missouri
Owner: Arthur Bendelari
Year Built: 1906
Style: Late 19/Early 20 Century Revival, features Doric columns
Interior: Pompeian Style
Architect: Austin Allen
Builder: Dieter Wetzel
Listed on the National Register in 2008. Read more about the history of this building here.
Preservation Efforts & Updates:
HMP partnered with stakeholders including the City of Joplin and the current owner to find ways to stabilize the structure.
Downtown Joplin Alliance uses grant funds to conduct a professional assessment on December 11.  Fire damage was limited in scope to the roof structure and the first-floor area below the lower roof.  The decorative domed ceiling in the lobby has collapsed onto the floor, which has also partially collapsed.  However, the exterior masonry and all floor structure areas are in sound condition and the building can still be rehabilitated.
October 29, 2020: The Olivia is named one of Missouri's "Places in Peril"
December 7, 2020: The Olivia Apartments suffer fire damage (view drone footage of fire damage)
December 17, 2020: Bywater Development's application for tax credits to help pay for the renovation is denied by the Missouri Housing Development Commission
Bywater Development withdraws from the offer to purchase The Olivia from Scott Tillman with Tillman Redevelopment of Springfield
Fall 2021: New developers are making … progress to bring The Olivia back to her grandeur
Good News Update February 12, 2021: City officials propose investment in Olivia building: Council to consider $250,000 agreement