Dora Annabelle Jesse Kneeland…The woman behind a famous seasoning
Dora was born in Diamond, Missouri in 1879 and moved to Joplin in 1895. Her husband, Guy Kneeland was an engineer for a zinc mine and passed away in 1923. Dora eventually came to live at 101 North Sergeant Avenue with a daughter, son-in-law, and grandson until her death on July 29, 1945. Dora was a member of the Zinc Rebekah Lodge and First Baptist Church.
Why is Dora's story special and carries on to present day? The answer begins with Dora's son-in-law, Cecil LeRoy "Roy" Williams, who was the founder of the C. L. Williams Chili Seasoning Company, now known as Williams Foods, Inc.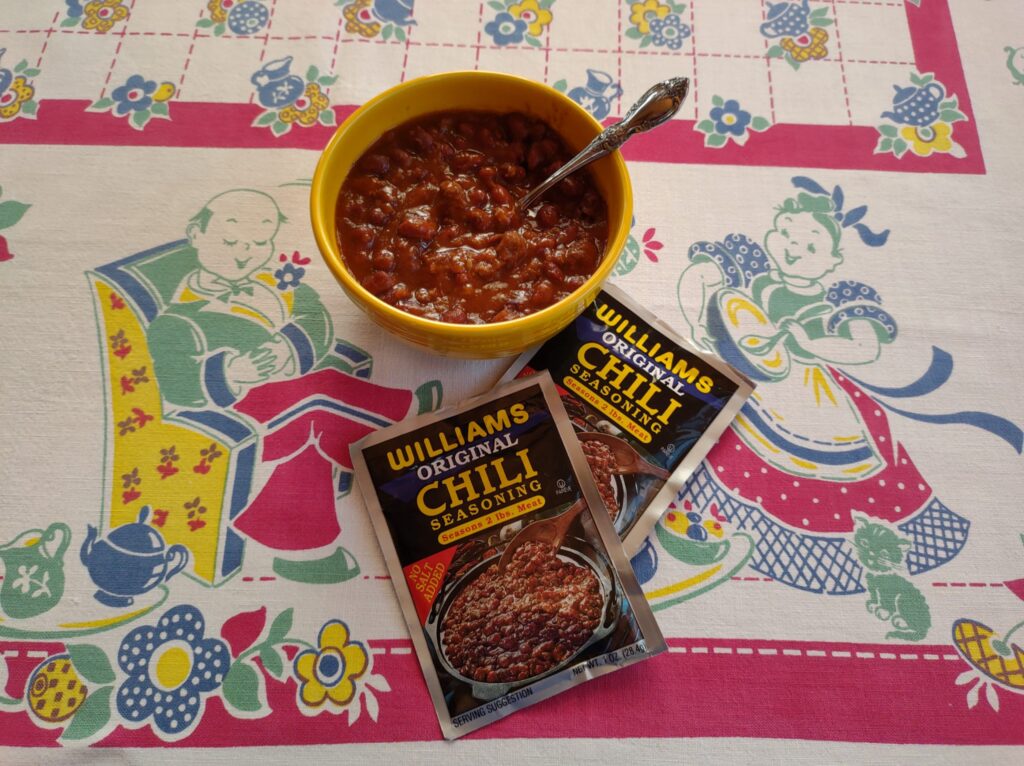 According to the Williams Foods website, a 1998 article in the Biz Journal (Kansas City), and a 2008 article in Ingram's magazine, Mr. Williams started the Williams Chili Seasoning company in Webb City in 1937 and began by "…selling his mother's chili seasonings…" in small brown paper bags and selling them out of his home. However, there are two wrinkles to this account. According to Dr. Benjamin Rosenberg, it wasn't Roy's mother's recipe—it was Dora's, his mother-in-law's recipe. The other wrinkle is the location and date. According to a 1972 Joplin Globe article, "Many years ago, in a small garage in Joplin, (at Roy's home) using a blender just about the size of today's coffee blender, the original formulation of pure spices and seasonings were combined by C. L. Williams, the beginning of Williams's Foods, Inc."
The 1939 Joplin City Directory shows the Williams family living in Joplin at 101 North Sergeant Avenue. The Rosenberg family lived across the street at 101 South Sergeant.
Dr. Benjamin Rosenberg is a long-time Joplin resident, former City Councilman, and local dentist. Dr. Rosenberg says the seasoning was made in the (extant) detached garage behind the William's house on Sergeant Avenue. While attending Columbia Elementary School (five blocks north at E Street and Sergeant Avenue) "Benji" would often ride his bicycle home for lunch. At that time, Columbia did not serve lunch. On some days Benji would eat chili for lunch served by the Williams family. During the cooking, Dr. Rosenberg said, "You could smell chili all over the neighborhood."
It appeared that no one else was selling packaged seasoning mixes for home use. Later Mr. Williams was the first seasonings maker to put the product in aluminum pouches. Once established, Mr. Williams approached the City of Joplin for a special use permit so that he could legally continue the process in his garage. According to Dr. Rosenberg, City officials denied the request. Mr. Williams moved his operation from the "small garage" to Webb City around 1942, although some reports site 1945. However, the family continued to cook chili and the aroma filled the air.
Interestingly, Roy continued his "real job" as the purchasing agent for Myers Motor Supply Company at 5th Street and Wall Avenue between 1925 and 1952. Roy died in 1975 and his wife Ida in 1988.
The seasoning's popularity grew and was distributed throughout the Midwest. Mr. Williams sold the firm to Conrad Hock, Jr. in 1963 (although some reports site 1961) who continued operating under the Williams brand at the 1502 South Madison plant in Webb City. By 1972, the seasoning was sold in some 30 states, many countries, and military commissaries. In 1984, Hock moved the company to Lenexa, Kansas, which was not well received by Webb City residents and is still lamented today! The company was sold again in March 2008 to C. H. Guenther & Son, LLC. The manufacturing plant is still in Lenexa with the Guenther corporate office in San Antonio, Texas.
Thank you, Dora Kneeland, for creating a chili seasoning mix that started in a humble Joplin garage and continues to help people get dinner on the table some 86 years later.
The Fred & Red's chili (spaghetti red) recipe is closely guarded, but many cooks believe the secret ingredient is Williams Chili Seasoning. Fred & Red's restaurant is located at 1719 South Main Street, Joplin.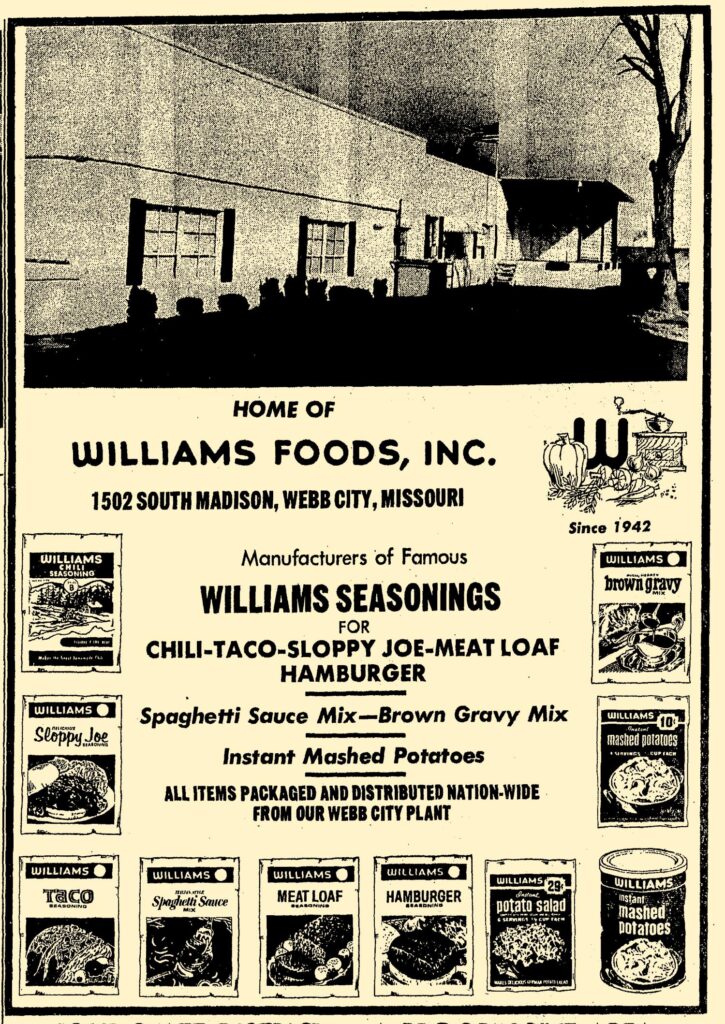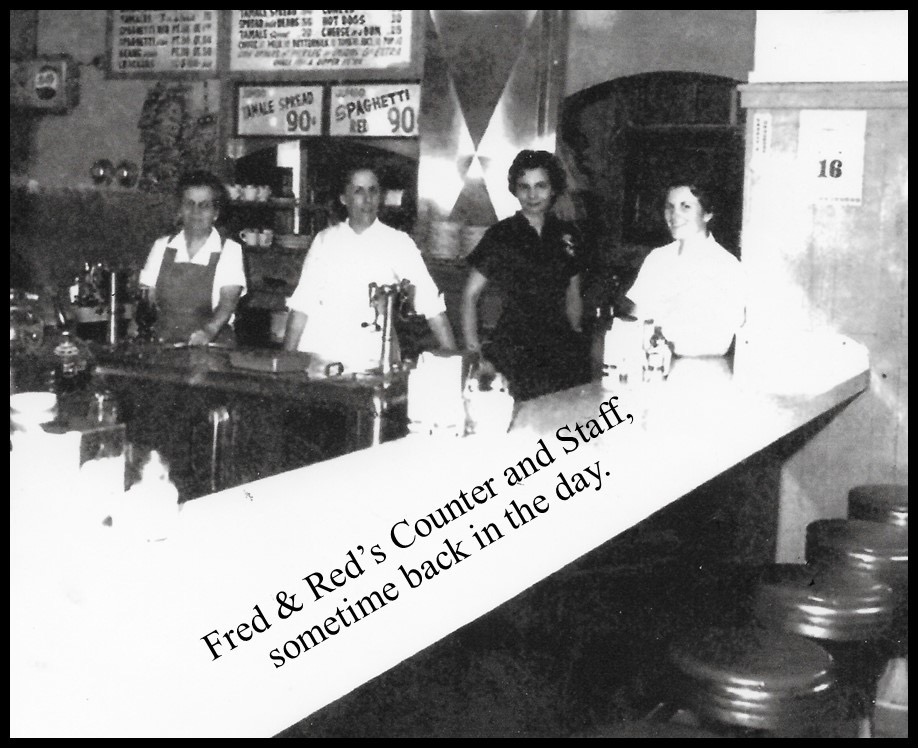 Williams Chili Seasoning packets can be purchased at G & W Cash Saver Grocery Store at 811 West 7th Street, Joplin and across America. Visit https://williamsfoods.com for the product locator then type in a zip code.