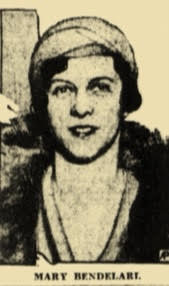 Inventor, Designer, Entrepreneur, Mentor, Lobbyist, Socialite, Manufacturer
Mary also patented an elastic-edge tablecloth and a rigid bed sheet.
Mary was born in Ohio in 1902, but soon came to live with her parents, Annie and Fred Bendelari, and siblings at the Olivia Apartments, 320 S. Moffet in Joplin.  Her uncle, Arthur Bendelari built the Olivia and also lived there with his wife Frances.  Her father and uncle were associated with the Consolidated Mining Company and Eagle Picher Lead Company, respectively.  Both families made a very comfortable living in Joplin which enabled Mary, her sisters Helen and Olivia, and brother George, to travel and study in the United States, Canada, and abroad.  Through the years, she lived in Cleveland, Washington D.C., New York, Paris, Los Angeles, and of course Joplin.  At times her sisters would take up residency with Mary.
According to newspaper interviews, Mary said at age 16 she stopped attending school when she "couldn't stand it any longer." The unnamed school was most likely the Crescent College in Eureka Springs, Arkansas. Her 1918 yearbook photograph accompanies this story. And yes, it is associated with the (haunted?) Crescent Hotel. The college operated at the hotel between Labor Day and Memorial Day (during the slack hotel season) from 1908 to 1934. Crescent College was a girl's prep school and junior college. However, we do know that she continued her studies at other schools.
While ice skating, she injured her back which caused daily pain. Before her father sent her to London for back surgery, she was in Paris and noticed Balkan peasants wearing unusual, comfortableshoes made of leather and woven cord. After her successful back operation, she kept thinking about those "smart shoes." Mary found an Irish girl that spoke French, hired a shoemaker to teach them the trade of hand-made shoes, and set up production in a Paris workshop with dirt floors to make "SandalariSlippers." The business grew, but alas her partner proved to be a traitor, pocketed the proceeds, and then departed unceremoniously!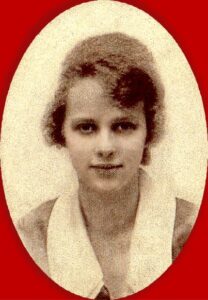 At that point, Mary's father, Fred Bendelari, arrived in Paris from Joplin and proposed she tour Italy with him. Instead, she asked for the $3,000 he would have spent on her and used that money to re–enter the shoe business. This time, she opened a more imposing office, formed a corporation, and devised a trademark. Orders came pouring in and soon she had three factories and 100 employees plus retail shops in various countries including the United States. Her shoes, also called the Deauville sandals, were even sold at Breck's Walk-Over Shop in downtown Joplin. The shoes were described as bewitchingly handsome, their daintiness enthralls you, and restful to the feet.
Mary spent a good deal of her time encouraging other women. She participated in "Success Clinics" held in the U.S., one in particular during a 1928 Women's Exposition of Arts and Industries Show in New York. 125 Women were speakers including (her supporter) Mrs. (Eleanor) Franklin D. Roosevelt and Margaret Sanger! Mary Bendelari was one of the most successful businesswomen in Paris—at 23 years old!
But then the design pirates came along and eventually pirated her out of business and into a couple of nervous breakdowns. Looking at the bigger picture, and in an effort to help all designers and inventors, she tackled the National Recovery Administration and got provisions against design piracy written into 72 codes and then lobbied congress to enact copyright bills. In 1935, a syndicated Washington correspondent, Rodney Butcher wrote, "Conspicuous about Mary Bendelari, aside from her nut-brown hair, brown eyes, statuesque beauty, and the alacrity (brisk and cheerful readiness) with which she repels senators who make passes at her, is her direct method of approach." At one point, Rodney (his hair, eyes, and beauty unknown!) dubbed Mary the "Prettiest Lobbyist."
During the U.S. presidential inaugural events in 1937, Mary was one of the luncheon guests of Eleanor Roosevelt at the "Executive Mansion."
Mary returned to Joplin routinely and was a coveted speaker at social club meetings. In 1963, she lived in New York, but continued visiting and speaking in Joplin. On one occasion, she lectured at the Spiva Art Center regarding authentication of a work of art.
There are countless, nationwide articles about members of the Joplin Bendelari Family—especially about Mary—on archival newspaper websites, but very little about Mary's brief marriage to Mr. Loper Baird Laidlaw on January 3, 1926. He was a banker from a wealthy family, a former Yale football player—and evidentially a womanizer. On July 9, 1930 a New York newspaper announced that Mary, a socially prominent bride, asked for a divorce. She charged Loper with infidelity and said he took too great an interest in another woman a week after they were married! Ouch—who needs Facebook status when you have The Standard Union newspaper in Brooklyn, New York? Including Mary, Mr. Laidlaw was married at least four times—that we know of.
Mary died on March 15, 1982 in Los Angeles, California at 80 years old. There were no known children.