Thomas Fran "Tommy" Lennan was born and raised in Massachusetts and graduated from Massachusetts Institute of Technology in 1899. Instead of following the course set by his family to go to sea, he immediately headed for the mining fields of the Midwest. He worked with mines in the Joplin area and Hattenville (later Commerce) Oklahoma. The Joplin Globe reported that "few of the veteran operators in the Tri-State field has as wide and as extensive a mining career as did Mr. Lennan."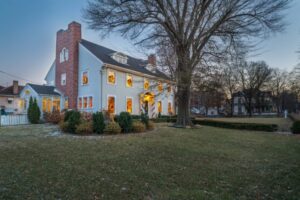 In 1906, he married Charlotte Gregg, a member of a Joplin pioneer family. When he was not at work, Mr. Lennan was most likely on the golf course at Oak Hill Country Club.
In 1893, Judge Oliver Hazard Picher owned the entire block (Moffet and Sergeant) and landscaped it as a private park surrounded by a stone wall which still stands today! His mansion was located at 204 S. Moffet. Eventually, the block was broken up into five properties with Mr. Lennan building a small cottage at 201 S. Sergeant to live in while his more stately house was being constructed at 219 S. Sergeant. During the Great Depression (1929 to mid-1930s) the owner of the Picher house lost all his money and the bank foreclosed on the property. Rather than find a new owner, the bank demolished the venerable old house.